Today is the feast of the Conversion of St. Paul, aka when God literally knocked Saul of Tarsus on his butt on the road to Damascus. Caravaggio's depiction of this scene is one of my favorite paintings.
(I should point out that the horse is never mentioned in the Bible account, despite being a popular element of most artistic depictions. Poor steed is merely one of those lovely historical myths that look nice but are only figments of our collective imaginations. Doesn't Caravaggio paint a nice figment, though?)
I learned at Mass today that it's also the anniversary of St. Vincent de Paul's founding of the Congregation of the Mission aka Vincentian priests in 1617. Apparently the pulpit he preached from on that day is still preserved in a little French church. I never really had much desire to visit France before - Rome and London and Prague are much more alluring - but now I would love to visit all the Vincentian landmarks that dot the country. The Daughters of Charity love to talk about Vincent's villages and Louise de Marillac's group of charitable French ladies and the convent where Our Lady of the Miraculous Medal appeared to St. Catherine Laboure.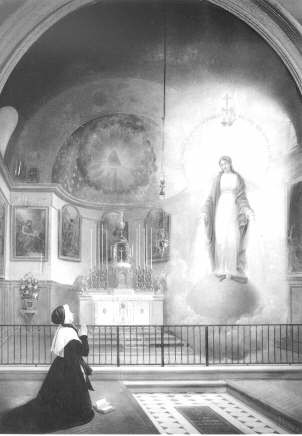 Even if I can't make it across the pond, I should at least re-visit a Vincentian landmark in my backyard. Up the road in Emmitsburg, MD is where St. Elizabeth Ann Seton founded the American version of St. Vincent's Daughters of Charity. This summer there is a big celebration of the order's 200th aniiversary. If I can't pay my respects to the place where American Catholic education was born, I might as well turn in my religious historican card now.
My high school, Seton School, always has this St. Elizabeth quotation on letterhead "Let his will of the present moment be the first rule of our daily life and work." That's an important lesson, and one that will likely take me a lifetime to master. As the priest said at this morning, there is no "How to be a saint" manual. Instead, you live in the present moment, doing what God wants in the here and now. As Paul knocked to the ground so aptly illustrates, we cannot control the future. Accepting the grace of the moment will help us respond to what does happen in a Christlike way.